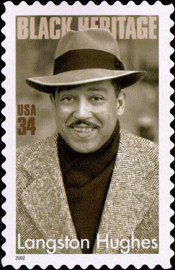 The instructor said,
Go home and write
a page tonight.
And let that page come out of you--
Then, it will be true.
Langston Hughes spoke the truth, his own truth from deep inside, a truth that profoundly expresses the dilemma that many African American (and other minority) students face when they go "home" to write. Will their writing be accepted by the academy, or by those that cling so tightly to the purse strings keeping so many from equal opportunity and from justice? Certainly Hughes knew only too well that he had to adjust his style to be accepted by those who would agree to publish him -- or not. He had to conform to the degree necessary or be silenced. This is the challenge that community college students face, and it is our responsibilty (the community college system) to meet their needs. Historically all too many minority and other poor communities suffer from what Jonathan Kozol calls Savage Inequalities in his book by the same name, deplorable schools with conditions that do not provide the basic fundamental necessities for educating the students who grace their halls. We see in the recent article in the San Francisco Chronicle (a comparison of McClymonds High in West Oakland and Piedmont High in Piedmont) that we are still turning a blind eye to the savage inequalities that different students face. These underserved students deserve the best, and it is up to us in our community colleges to give it to them. Our college system represents their hope, hope for acceptance, hope for excellence, hope for success, and even hope for survival. We are their home away from home, where they can come to learn to write pages that can change the world and can make them whole, can make their communities rich and alive, and can transform our perception of the way things are, and how they should be, just as Langston Hughes did. We see the coming together of these elements in the 34 cent stamp image above, Langston Hughes, Black Heritage and the USA, and in the picture to the left of Hughes giving back to his community.
On this page I have put together many of the articles by the best thinkers and researchers on how to teach reading and writing effectively. Bill Robinson, who founded the composition program at San Francisco State, starts off with two essays, the first, "Towards a Theory of Error" shows how to create a system to draw error correction into the writing process (the only way that works) and gives a sound taxonomy of error, and the second why it is critical to combine reading and writing instruction, calling them "two sides of the same coin." There is a Mike Rose article, "Remedial Writing: A Critique and a Proposal," which was one of the primary inspirations for the SFSU teaching philosophy, a philosophy that maintains we need to teach students to write by presenting them with models that they can internalize and approximate with their own writing (use exposition to teach exposition), and why this is critical to prepare students for their academic careers. Many thanks to my mentor, Ann Elliott from Merritt College, who provided the outlines for the Rose article and the George Hillocks research on best practices to teach writing from his critically acclaimed research on writing methodology, Research on Written Composition. And there is more and more will be added. I just got this pedagogy page up and running so stay tuned....

— Jon Drinnon